20V 1 X 2.0AH Li-ion Cordless Grass Trimmer
Product Detail
Product Tags
Basic Info
| | |
| --- | --- |
| Model Number: | li18045 |
| DC Voltage: |  20V |
| Battery: | Lithium 1500mAh(Qixin) |
| Charge time: | 4hours |
| No Load speed: | 8500rpm |
| Cutting width: | 250mm |
| blade: | 12pcs |
| Running time: | 55mins |
Specification
| | |
| --- | --- |
| package (color box/BMC or others...) | color box |
| inner packing dimension(mm)(L x W x H): | 890*125*210mm/pc |
| inner packing Net/Gross Weight(kgs): | 3/3.2kgs |
| Outside packing dimension(mm) (L x W x H): | 910*265*435mm/4pcs |
| Outside packing Net/Gross Weight(kgs): | 12/14kgs |
| pcs/20'FCL: | 1000pcs |
| pcs/40'FCL: | 2080pcs |
| pcs/40'HQ: | 2496pcs |
| MOQ: | 500pcs |
| Delivery Leadtime | 45 days |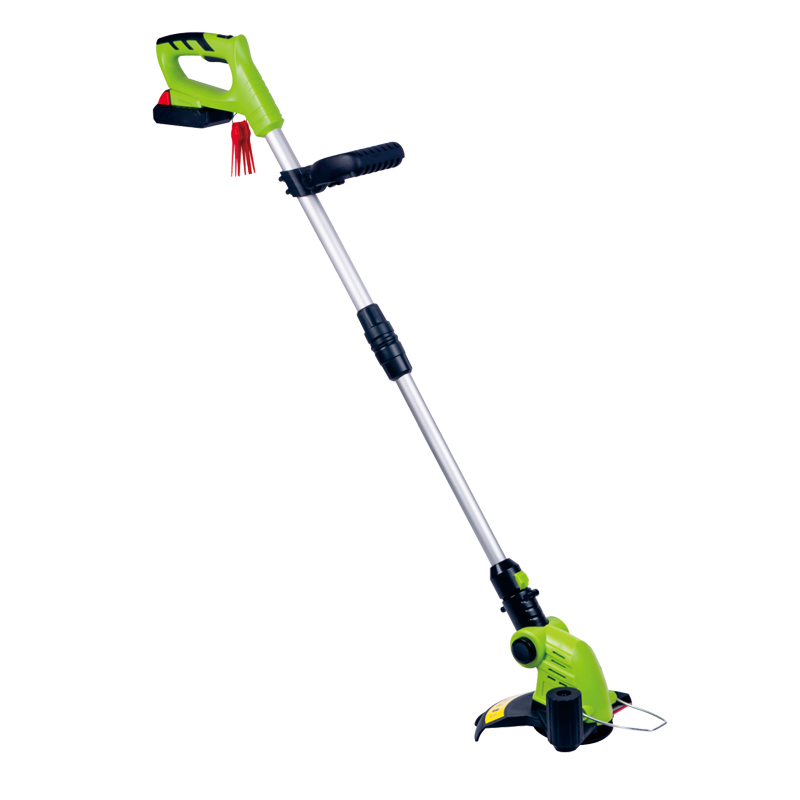 The Sharper Blade cordless Grass Trimmer/Edger is for homeowners and professionals who are dissatisfied with the hassles of traditional string trimmers. It features a maintenance-free blade that lets you trim weeds and edge lawn without stopping. Unlike string trimmers that require constant string adjustment and replacement, sharper blade technology allows you to complete the job more easily than any other product.
Cordless grass trimmer with telescopic shaft for comfort. Features pivoting head ideal for trimming under low obstacles and an edging function. Ideal for trimming and edging small to medium lawns.
Line (or string) trimmers. These trimmers cut by spinning a plastic or nylon cord at high speed. This cord wears down gradually over time, and is either replaced automatically (automatic feed) or has a button on the bottom of the trimmer you can bump on the ground to reel out more cord (bump feed). They are either single-line, using one line of cord, or double-line, which uses two lines of cord. Generally, the line is designed to wear down gradually rather than completely break, but if the cord catches a rock and snaps, just reel out more cord. However, these fragments of plastic aren't good for the environment, and once you run out of cord, the spools can be fiddly to replace. Although powerful enough to cut long grass and weeds, line trimmers aren't as strong as blade trimmers, and are therefore less effective on tough, woody material.
Blade trimmers. These trimmers cut using two blades, which on domestic models are usually plastic. This makes them more effective on woodier material than some line alternatives, but if they catch on a rock or tough bark the blades can snap and get lost in the grass, which can damage the mower next time you cut the grass. trimmers with metal blades avoid this problem, but they're more expensive and not as widely available.
---
---